---
This delightfully light and lavish suite takes its name from the exceptional views of Dempsey Hill and the tranquillity beyond. It is modern and fresh and features an eye-catching elegant classic décor. The spectacular airy 100sqf stylish residence located at the main entrance is designed with a huge beautiful bird cage, decorated with beautiful flowers that gives our cat guest a cosy feeling of being in an enchanted garden. Palace Feline Suite gives guests plenty of room to entertain, relax and purr. - A perfect private getaway for larger families or long stay guests.
Features & Services
100sqf with soft carpeting
Scratcher
24 Hours Air-Conditioning
Filtered water fountain
Web Camera
Feeder
Soothing classical music
Quality litter tray
Premier cat condo
Option to choose HALF BOARD (Homemade breakfast & dinner Inclusive for additional S$25)
Note
*Our pet angels strive to ensure that each of our cat guest enjoy their vacation to the fullest with continual attention and playtime given. During the stay, you will receive an update each week about your cat's holiday. If you require more than one update per week, please see below for the goodsome extras treats for your cat.

1. Bundle of 3 updates per week with photos and videos - $8
2. Additional 30mins of cuddles and playtime - $15

*Members of the same family in the same room will enjoy a 35% off the rack rates. All prices are subject to prevailing government 7% tax & 10% Service Charge. For any inquiries, please email to hotel@thewagington.com.sg
VIEW OTHER ROOMS AND SUITES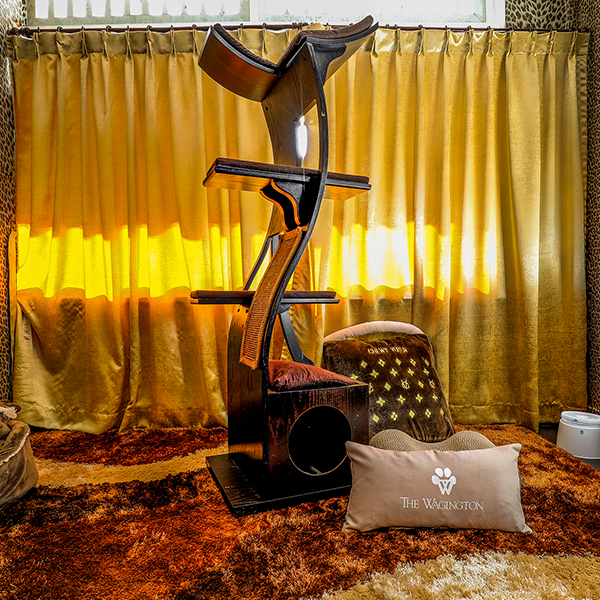 Royal Feline Suite
With an impressive 75sqf of space to enjoy, spectacular view of Dempsey Hill, this suite has been elegantly designed with a unique flourish to give guests that ultimate feel-good factor, with sumptuous pet designer cushion to sink into after a hard day of affectionate purring..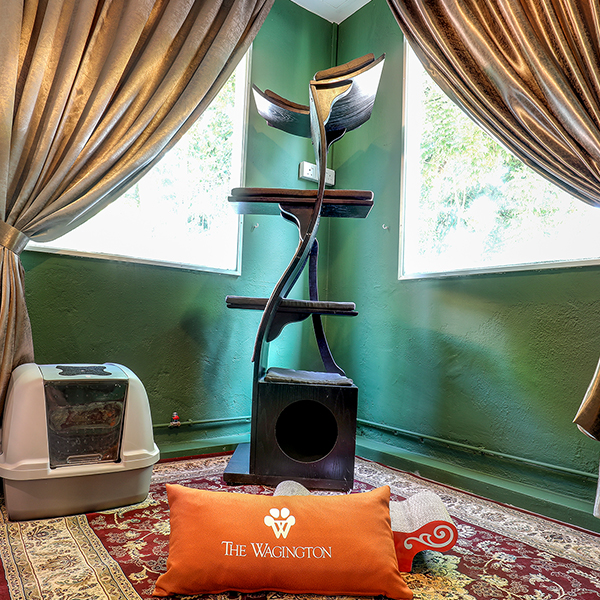 Doghill Feline Suite
This vast private suite enjoys breath-taking views over the Doghill Garden where all the dogs' actions are. It is designed in a regal style and the cat that stays here is instantly transported into the most iconic room that fits a Kingsman.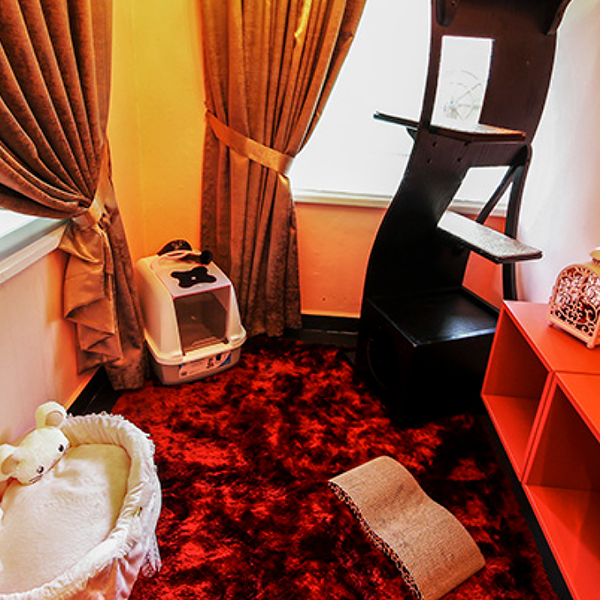 Imperial Feline Suite
For a Wagington experience with a cherry yet relaxing tone, then look no further than our delightful Imperial Suite. Beautifully decorated with Sweetness in mind, Imperial suite portray PINK in an elegant 55sqf spacious room with a great view of Dempsey. Your cat may go home sweeter than it already is!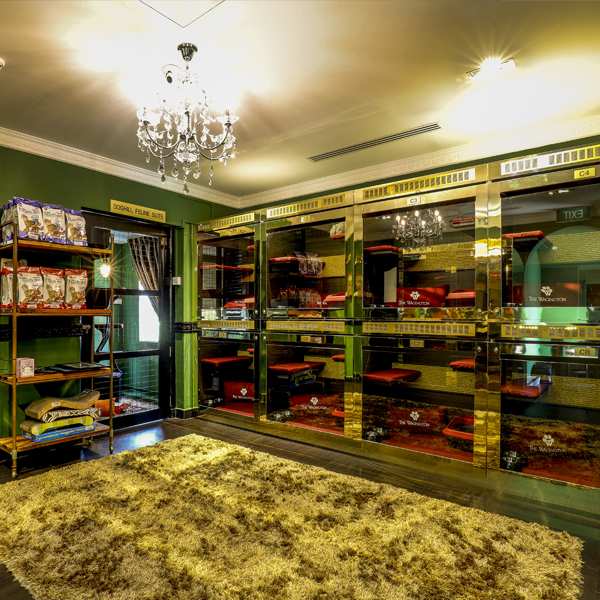 Cabin Feline Suite
Our Cabin Suites provide the perfect blend of comfortable living space and regal splendour. Elegantly decorated with feature wood interior and fitted with comfortable cushioning to sink into, these suites are situated right inside Purr-Fection Suites.